My Craziest Trip Ever
By
David Tucker
•
March 23, 2017
Business travel is far from glamorous. It's a big collection of frustration and unpredictability. This story is just one example.
At the time of this trip, I wored for a digital consultancy, Universal Mind. I traveled quite a bit to connect with clients. On this particular trip, I was planning a multi-stop itinerary. First, I would travel from Chattanooga to Atlanta to visit with a client and assist with an all-day workshop. Then I would take a flight to Dallas to meet a different client for an early morning meeting the following morning. After the Dallas meeting, I'd meet my brother for lunch and then fly home.
Sounds easy? I thought so too. I was very very wrong.
Atlanta to Dallas
After the conclusion of the workshop, I skipped the dinner with the client because I knew I had a long drive to the Atlanta airport during rush hour. While this drive was as arduous as any rush-hour drive in Atlanta, I made it to the airport without issue. Thanks to TSA PreCheck, I managed to make it through security, grab a quick bite to eat, and headed to my gate with plenty of time to spare.
If I remember correctly, this flight from ATL to DFW wasn't delayed at all. I had been notified of my upgrade to first class a few days prior, so I was able to board quickly and got settled in for a roughly 2h 15m flight. This is where the fun began.
After everyone boarded and we had gone through the usual preflight ceremonies, we noticed something strange. The plan began to rock from side. I fly a fair amount, and this movement was something more than I had ever felt. The pilot informed us that a storm was passing through and that there were some strong straight line winds. We stayed put for about 40 minutes, but once that weather passed we took off for Dallas.
As we approached Dallas, things got interesting. At about 10:15pm Central time I was half-asleep and decided to take off my noise-canceling headphones for a brief moment. It was during this time that the pilot informed us that we were going to have to circle DFW as the airport was currently closed to incoming and outgoing aircraft due to a severe storm that was passing through the area.
I quickly utilized the GoGo Inflight Internet to check for myself. It was at this point, I first began to doubt whether I would make it to Dallas.
For the next thirty or so minutes, I drifted between the world of the awake and the world of the weary snoring business traveler. As it was nearing 11pm Central (midnight really since we originated in Eastern time), most everyone was dozing a bit. The guy next to me was totally knocked out as he had been for most of the flight.
At this point, the pilot came on and informed us, "We don't have enough gas to get to Dallas, so we are going to land in Austin (AUS)".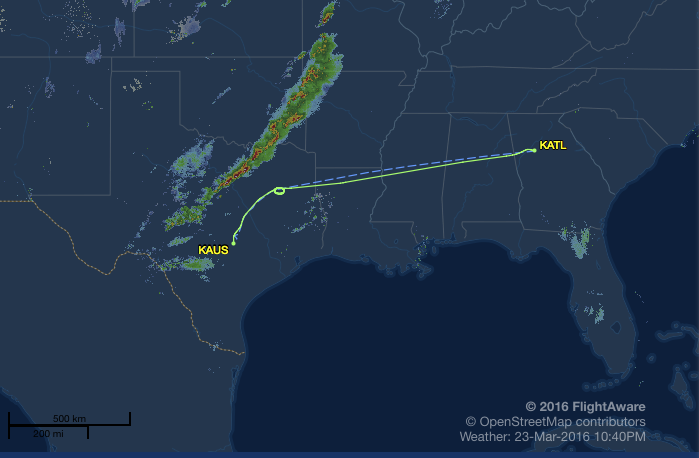 Diverted
The announcement of our diversion was met with the usual groans. After a few minutes most people seemed resigned that landing in Austin was better than falling out of the sky. We went through the usual landing process and ended up in Austin around 11:30pm.
Once we arrived, the pilot informed us to sit tight. The gentlemen next to me shuffled past me into the aisle and began getting his bag. The pilot announced that they were going to do all that they could do to just get fuel and get us to DFW that night (as the storm had passed away from DFW). However, the pilot also gave us a warning that the crew only had about an hour of duty time left. If we couldn't make it there by that point, we would have to wait for a new crew.
The gentleman who has been sitting next to me looked at me in a state of shocked and asked, "Are we not in Dallas?". I just now realized that he had slept through all of the announcements.
We waited for what seemed like an eternity with an endless stream of crew and gate agents going on and off of the plane to make the necessary arrangements. After about 40 minutes, all of us knew that hope was fading fast. Just a few minutes later, the pilot gave us the bad news. Long story short, the printer at Delta's only gate where they can create flight plans was not working. Yes, it appeared my trip to Dallas was derailed by an ancient printer.
At this point, the people on the plane were informed that they had to deplane and that Delta was working hard to get them a new crew. Many seemed optimistic, but since I knew that the chances of getting a new crew at this time of night in an airport that Delta doesn't do a lot of business in — I decided to move to Plan B.
Plan B
Since the meeting that I had in Dallas was early the next morning, I knew that I was going to have to drive. As I walked away from our gate in Austin, I called Delta to let them know I wasn't going to hang around and wait for a new crew. As always, they quickly made the necessary changes. By the time I left the secure area of the airport, I had fully closed out Plan A and began to shift to Plan B.
My thought was pretty simple. I could go to Hertz, grab a car, drive 3.5 hours through the storms, and arrive in Dallas with enough time to spare so that I could caffeinate myself enough to endure the one hour meeting all while appearing as some modern day Odysseus who overcame insurmountable odds on a treacherous journey.
The line at hertz was only about 8 people, but it was moving very slowly. I quickly shifted over to the gold counter where I assumed that my status with Hertz would eliminate any friction in me acquiring the ride that I so desperately needed. I waited for what seemed like an eternity (although it was probably about 5 minutes) before someone arrived to assist. I explained my situation, and she answered with a simple message. "We don't have any cars." Assuming that this was some artificial limitation, I pressed harder and explained my status with the company. I hate being 'that guy', but in this case I felt that I had no other option. Without any concern or empathy, she continued to express the same message.
After a good deal of frustration, I walked over to Dollar… Same message. Budget…. Same message. Alamo…. Same message. There wasn't a single car available in all of the Austin Airport. To this day I still don't know why there wasn't a single car available. SXSW had ended a week earlier.
I wasn't getting to Dallas that night.
Plan C
After accepting that this entire trip was an exercise in futility due to the fact that I would miss the one meeting I traveled to Dallas for, I needed to begin to put Plan C into play. I opened the Marriott app on my phone. I first looked at nearby hotels in Austin. I found that a Courtyard hotel near the airport had openings. I quickly booked the room and began walking back to the taxi line. Next, I called the Marriott in Dallas that I had previously booked for that night. They were more than happy to cancel my reservation and commiserate with my situation.
As I reached the taxi line around 1:30am, my thoughts quickly shifted to simply getting to that Courtyard hotel and collapsing on my bed. I quickly grabbed a taxi and was en route. I arrived at the hotel around 1:45am. I got my bag from the taxi driver and walked toward what would become the end of a very long day.
As I reached the front desk, I expressed my joy at arriving at the end of my journey. "I'm so thankful you guys have rooms. It has been such a long day". She replied, "I'm sorry sir — we don't have any rooms."
No Room at the Inn
We went back and forth for about 5 minutes. I explained that I had booked using the app. She was by far the most unsympathetic person I have ever dealt with at a Marriott hotel. At this point, knowing that my cause was hopeless I pushed to find out what she would do since Marriott had made the mistake (and since I'm fairly sure that I am a line item in Marriott's annual budget).
She put me into a cab with another couple that had the exact same booking experience. They sent us all of us to a Springhill Suites hotel (which is in the Marriott family) that had rooms available. The husband of this couple was a 747 pilot who flew internationally. During the cab ride over, he had several great stories to share. While I was totally exhausted at this point, the conversations with that couple made it bearable.
At around 2:45am, I walked into the Springhill Suites. In less than 3 minutes, I had my room key and was on my way. Once I got to my room, I called Delta, updated my travel plans for the next day, and then set my alarm to wake up for the early morning meeting which I would now be joining by phone.
As a fun note — both the Courtyard and the Spring Hill Suites charged me for my rooms that night. I had to invest another few hours several weeks later to get that ironed out.
Day 2
I woke up about 7:30am to get ready for my 8am meeting. I messaged my brother and told him I never made it to Dallas. I wouldn't be able to join him for lunch. I double-checked my travel plans for the day and reflected on the futility of this entire trip. If I was going to join the meeting by phone, I could have done it from my home office in Tennessee.
I attended the meeting, and then I had a bit of time to kill before heading to the airport. After a day of uncertainty, I was lucky to have a bit of time to eat some breakfast, catch up on some work, call home, and then head to the airport with a slower yet deliberate pace.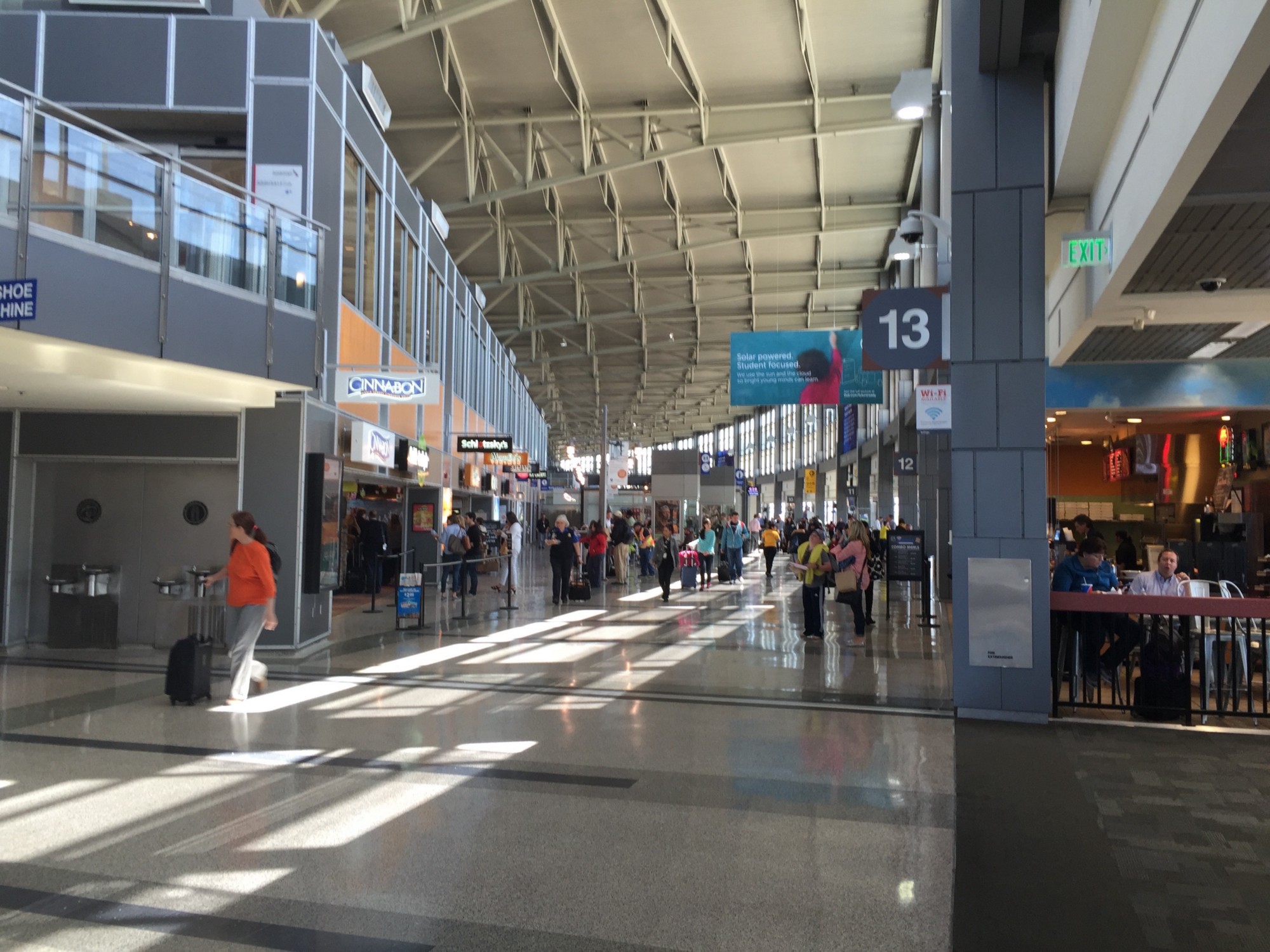 When I arrived at the airport, I grabbed a bit of lunch and then headed to my gate. While I was there an announcement came over the intercom, "Those Delta passengers waiting to get to Dallas, we will have a bus to pick you up out front in 30 minutes". Yes, those poor passengers who had waited for a new crew were now told they had to jump on a bus. They were going to arrive in Dallas about the time I would be landing in Atlanta.
My flight from Austin to Atlanta was only delayed by about 15 minutes. The boarding seemed to go pretty well, and it was mostly uneventful from boarding to take-off.
The Journey Home
In flying back to Atlanta, we had to fly over the exact same storm that had closed Dallas the night before. This led to some bumpy parts of the flight, but it was far from the worst that I have experienced.
About halfway into the flight, I had my eyes closed with my noise-canceling headphones on while listening to Yo-Yo Ma's rendition of Bach's cello suites when there was a huge flash and crash. I could sense the flash despite my eyes being closed. I could hear the crash even though I had the headphones on. Everyone in the entire plane stopped what they were doing. We all looked around at each other. After about a minute, we all realized that we were still airborne and nothing critical seemed to be wrong with the flight. At this point, everyone transitioned back to their primary task of ignoring everyone else.
As we landed in Atlanta, the pilot came over the intercom to let us know that we had either been struck by lightning or had a static discharge while in flight. Neither is critical, but it was certainly a bit of a surprise during flight.
Once we were on the ground it took quite a bit of time to get to a gate. ATL had been closed for a bit too, so there was a long line of planes waiting to take off. After about 30 minutes, we reached our gate.
The Final Leg
I made the quick transition over the Concourse D to catch my flight from ATL to CHA (Chattanooga). This is a very short flight at 24 minutes. I was thankful that there was only one leg left between me and home.
We boarded the flight and surprisingly left without any delay. During my hour layover, the crew at ATL managed to correct most of the backlog of arriving and departing flights. Within the normal amount of time for boarding and taxiing, we were airborne despite weather that was still far from ideal.
We managed to land in Chattanooga on schedule. However, I could instantly tell something was unusual. Chattanooga is not a big airport. It is less than 2 hours from the most traveled airport in the world, so the airport isn't as big as airports for similarly sized cities. However, when we landed there were regional jets already parked in every gate with a few more sitting on the tarmac.
Apparently, during the time that ATL was closed, several regional jets were diverted to Chattanooga. However, given the ground crew bandwidth, it was taking an excessive period of time to get all of these planes back in the air to Atlanta.
We waited on the tarmac for another hour before there was room for us to get to a gate. One plane had pulled out of a gate 30 minutes earlier, but something happened with the pull bar on the tow. They had to do some impromptu fixes before they could push it out of the way. Honestly, I wasn't even surprised at this point. I expected the jetway to break before we had a chance to get off of the plane, but luckily they just let us use the stairs to get off.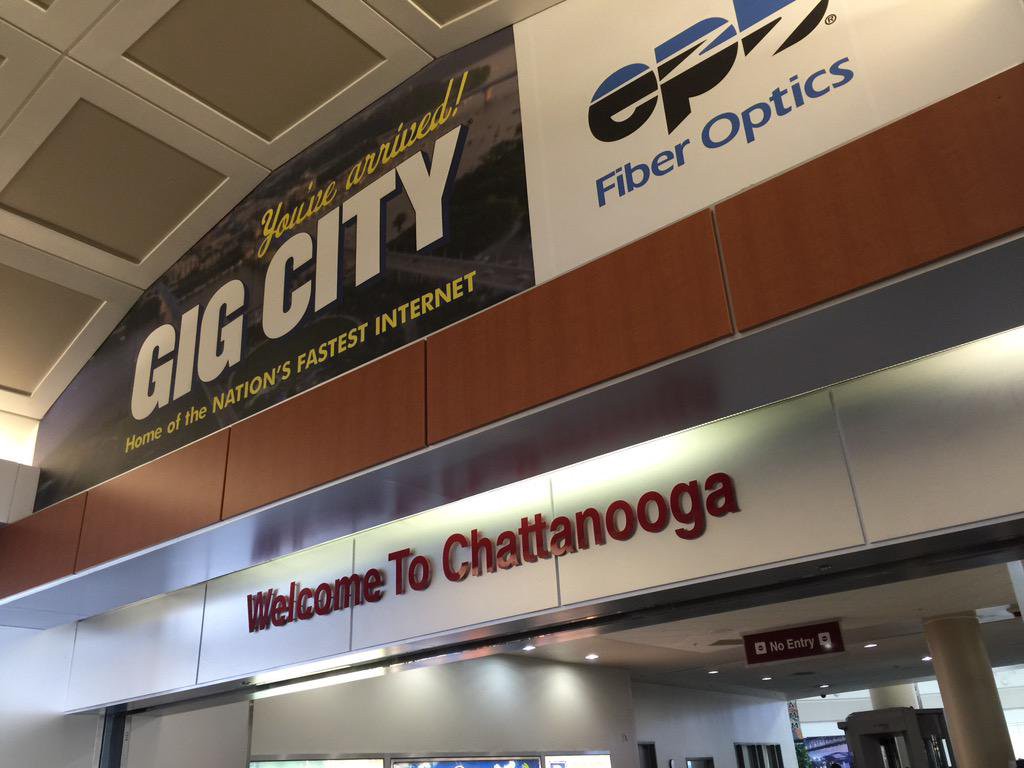 Home at Last
After I stepped off of the plane in Chattanooga, everything was smooth sailing. I gathered my stuff and found my car. Within 30 minutes, I had arrived at home.
I've never been more glad to be home.